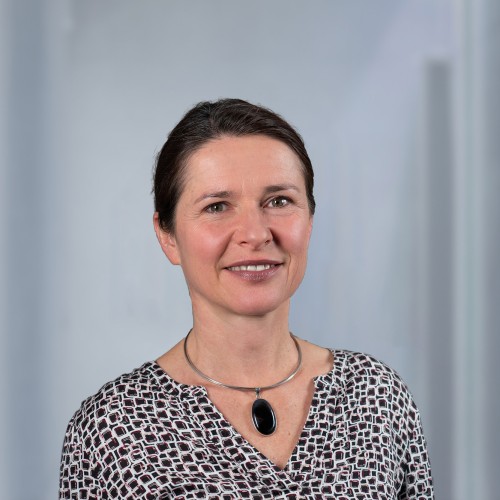 Antiferroelectric capacitors for power electronics
Dr.-Ing. Sylvia Gebhardt Fraunhofer Institute for Ceramic Technologies and Systems IKTS, Dresden, Germany Multifunctional Materials and Components
For high-density power electronic systems with miniaturized system size and high efficiency, capacitors with increased capacitance density under high electric fields and elevated temperatures are necessary. Only capacitors, which fulfil these specifications, are capable for the design and manufacture of future power switches with wide-band-gap semiconductors. The requirements for these components are mainly driven by an increasing market on engine control systems and DC/DC converters for electric mobility and regenerative energies.
Antiferroelectric materials offer high permittivities, which are even increasing with increasing bias voltage. They allow for the development of capacitors with high capacitance density at high DC bias, high current handling capabilities and stable operation at elevated temperatures. Especially the material system lead lanthanum zirconate titanate (Pb1-xLaxZr1-yTiyO3 – PLZT) turned out to be suitable for high power density. By adjustment of the La- and Ti-content and targeted doping, relative permittivity and switching field can be monitored.
Multilayer ceramic capacitors with up to 50 PLZT ceramic and AgPd inner electrode layers have been manufactured and characterized. After sintering, ceramic layers had a thickness of 45 µm, AgPd inner electrodes of 2 µm. The MLCCs showed a very high relative permittivity r,max = 2'800 at a switching field of Ebias = 11.1 kV/mm and a ripple voltage of Up-p = 20 V at room temperature. Also at higher temperatures, excellent values were obtained which exceed state-of-the art dc link capacitors. The material system allows for a further improvement of the permittivity and switching field values by continued adjustment of the chemical composition. Based on that, MLCCs with significant increased energy density can be developed in future.
In collaboration with Christian Molin and Holger Neubert
Sylvia E. Gebhardt is Senior Research Scientist at the Department Smart Materials and Systems of the Fraunhofer Institute for Ceramic Technologies and Systems IKTS in Dresden, Germany. She studied Material Science at the Technical University Bergakademie Freiberg, Germany and at Leeds University, UK. She received the Diploma degree in 1996 and was awarded a Ph.D. degree in 2000 for her thesis on development and characterization of fine-scaled 1 3 piezocomposites for ultrasonic transducers. Her research interests are focused on the synthesis of ferroelectric, piezoelectric, and electrocaloric materials as well as on the development of ceramic components based on thick films, multilayers, microstructures, fibers, and composites for capacitors, sensors, actuators, and ultrasonic transducers.
About the FLAME-inars
The FLAME-inars are organized by the collaborative project FLAME at TU Darmstadt, in which electronic-structure-property relationships are being developed and exploited to realize novel lead-free antiferroelectric compounds. The seminars will gather experts in processing, characterization and theory to discuss materials and applications, bulk and thin films, fundamental properties, electronic structure & defects, and related aspects.