FLAME Summer School
La Clusaz, France
2019/09/11 by jb / TU Darmstadt
From 01 – 08 September 2019, the Summer School of the LOEWE project FLAME took place in the Chalet Giersch in La Clusaz. The scientific staff of the FLAME projects gave various lectures in order to promote an intensive interdisciplinary exchange and to give an overview of the research results achieved so far.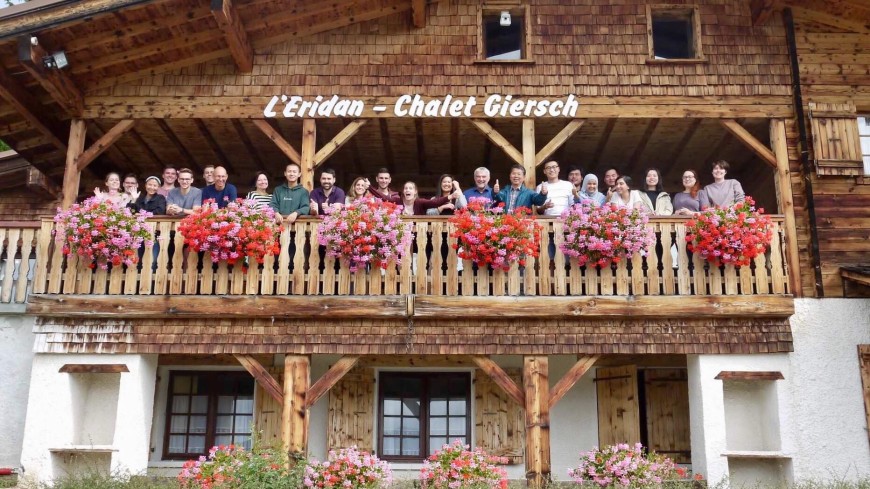 Within the framework of the workshop, joint leisure activities took place in order to strengthen cohesion and team building.
Professor Dr. Tongqing Yang from the Department of Materials Science and Engineering / SMSE of the partner university Tongji in Shanghai also took part in the Summer School together with two of his doctoral students.
Hiking on the Plateau de Beauregard. Image: Jessica Bagnoli

Lecture talk. Image: Katharina Schuldt

Rafting tour. Image: Indiana Rafting

Lecture talk. Image: Jessica Bagnoli

FLAME group photograph. Image: Séverine Schöner

Shared cooking.
Previous
Next
Go to picture 1

Go to picture 2

Go to picture 3

Go to picture 4

Go to picture 5

Go to picture 6
Thanks to a generous donation from the honorary senator of the TU Darmstadt, Carlo Giersch, and his wife Karin, the Technische Universität Darmstadt has at its disposal a meeting place only 50 km south-east of Geneva in the Haute Savoie Alps, which has been treated as an insider tip by previous visitors. The chalet, built in the traditional Alpine style, was acquired by the Carlo and Karin Giersch Foundation and has been lovingly renovated. The chalet was generously extended in 1999 and offers comfortable conditions for seminars, workshops and a relaxing stay for groups of up to 35 people.