Certificate Award for LOEWE project FLAME
2020/02/18 by jb
On February 18, Maya I.S. Gradenwitz, representative of the Hessen State Ministry for Higher Education, Research and the Arts, presented the certificate for the LOEWE project FLAME to the scientific coordinators Professor Andreas Klein and Professor Karsten Albe.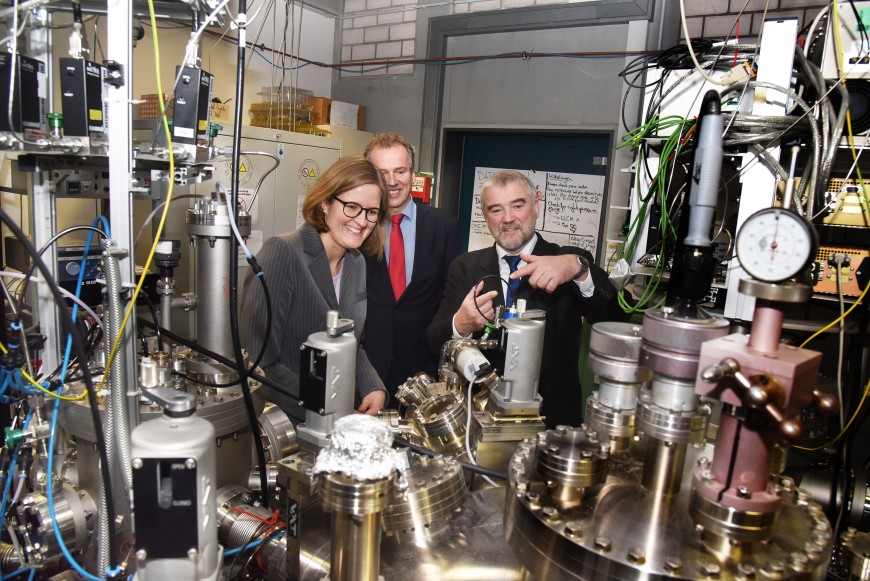 In the FLAME project, which is financed by LOEWE funds, researchers at TU Darmstadt are investigating how the properties of functional materials can be adjusted via their electronic structure. Twelve research groups from the fields of Materials Science, Geosciences, Chemistry, Electrical Engineering and Information Technology will develop lead-free antiferroelectrics for capacitors with high energy and power density and for high-voltage insulators. These enable more efficient conversion and transmission of electrical energy from renewable sources and in electromobility.
During the award ceremony, Ms. Gradenwitz met members of FLAME's disciplinary research groups and won an impression of the project during a guided tour of various laboratories.
FLAME is being funded from January 2019 to December 2022 by the State of Hesse within the 11th season of the LOEWE Initiative.